Safety Helmet
Guardian
Resistance and Comfort for hard work.
Sturdy and comfortable industrial safety helmet.
Properly certified under European Standard EN-397
Simple and quick adjustment in both perimeter and height to achieve maximum user comfort; Universal side insertion grooves that allow attachment of accessories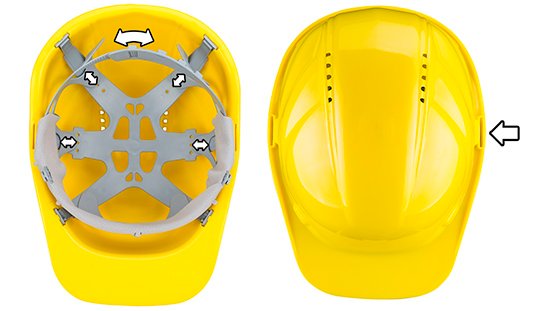 Safety Helmet.
Guardian
Sturdiness and Comfort for great jobs.
Excellent safety helmets built under the European EN-397 Regulations ideal to be used inside or outside industrial facilities or in any kind of outdoors work. It has ventilation holes that favor the flow of fresh air laterally and a suspension with a 6 point anchorage, with easy adjustment around the head and three positions in height to be able to be used by a wide range of people with diverse physical characteristics. There are also two universal anchorage points for adapting chinstraps and 2 standard side grooves to adapt any accessory and anti-sweat band on the forehead area.
Universal anchor points for chinstraps